British Council Certified Agent is a qualified educational consultant or agency who has been trained and certified by the British Council. This certification proves they are skilled in guiding Bangladeshi students studying in the UK, providing accurate information on universities, programs, applications, and visas.
Eduvisors is an authorized agent in Bangladesh, providing global education solutions.
Eduvisors helps Bangladeshi students excel academically and personally through global education opportunities. We are proud to announce that we have been officially certified as a Certified Agent by the British Council.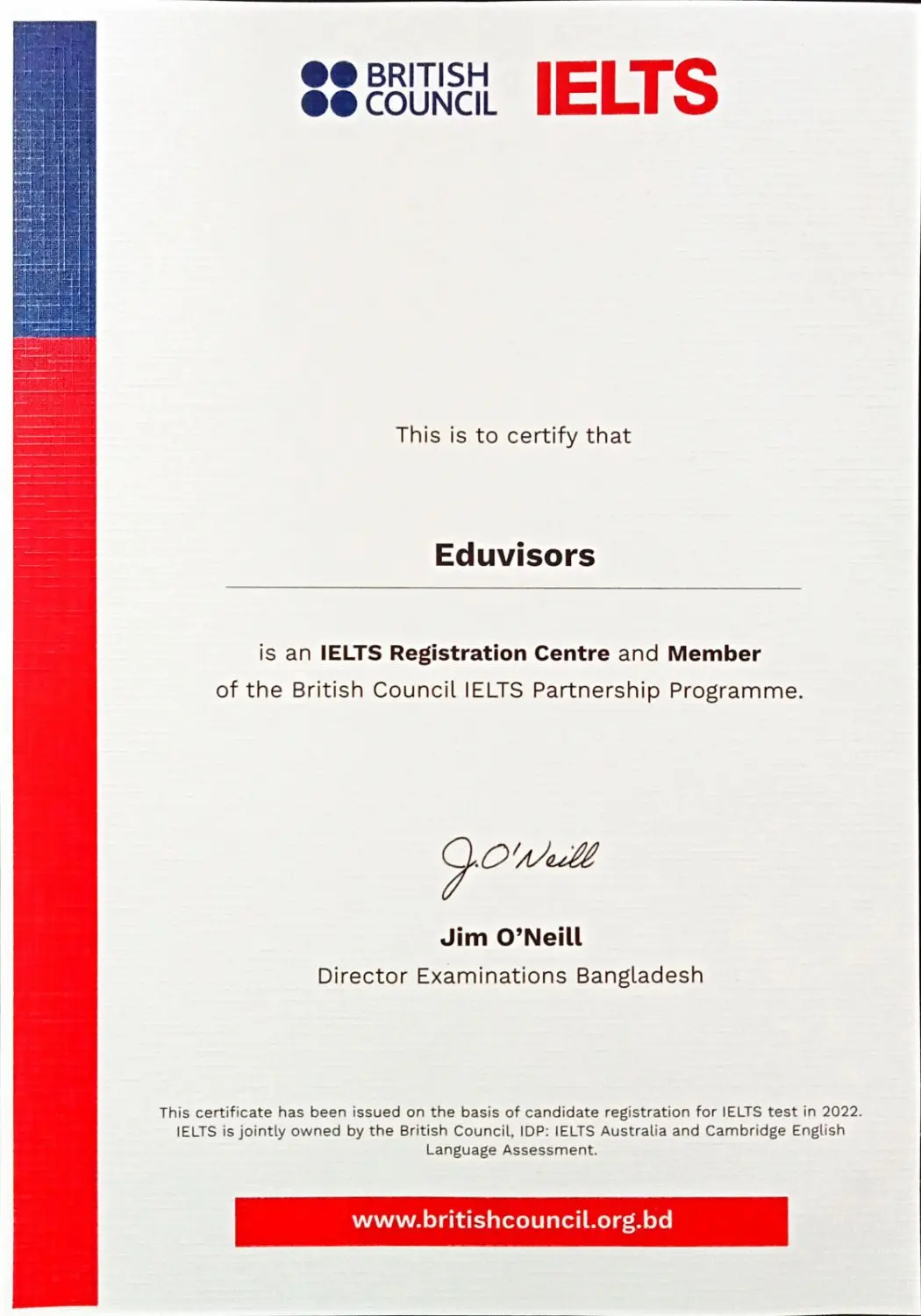 This is a milestone in our journey to make your study abroad journeys easier and stress-free. As an authorized agent in Bangladesh, we will make sure that your journey to international education is as easygoing and hassle free as possible.
Our journey to become a Certified Agent of the British Council is a witness to our commitment to provide the highest quality service and information.
Being the British Council Certified Agency, Eduvisors has been recognised for expertise, fairness and commitment to excellence. We represent UK institutions and are responsible for providing our students with the highest quality guidance and counselling.
Our team has been trained extensively to become British Council Agents and is well-equipped to navigate the world of international education. We have been trained to understand UK education, funding options, and enrichment programs for international students.
In terms of being British Council Approved Agent Eduvisors has gone through these mentioned comprehensive training which includes:
Relevant, exact, and reliable information regarding studying and livelihood lifestyle in the UK.
The manner of living and fascination of students
Financial support and enrichment of international students as well as quality management procedure
Educational expenses and scholarships
UK application method, entry requirements, along with visa and immigration regulations
Protection assurance of children's, operation process and rules of conduct
With this in-depth knowledge, we ensure that this support goes beyond the academics as well as well being, and cultural integration. Eduvisors' association with the British Council, as well as our extensive training, shows that we are dedicated to helping you achieve your goals.
Start your journey towards world-class education with the help of Eduvisors, a British Council Approved Agent. Our services go beyond those of a British Council Agent, we open doors to a future full of possibilities.
In conclusion, Eduvisors is a British Council Certified Agency. Our British Council Certified Agent status demonstrates our commitment to guiding Bangladeshi students towards global education opportunities.
With this training, expertise, and holistic approach, we ensure that your dreams are nurtured in the best possible way. When you entrust your dreams to us, we promise to guide you professionally, honestly, and with a passion for seeing you succeed on the world stage. Your dream is our goal, and we're here to bridge the gap and turn dreams into reality.